While you spend your time creating the best product or service, carving a detailed marketing strategy, or hiring a good sales team, don't forget that the puzzle will not be complete unless you also have a quality web design, typically provided by a web design agency.
You might wonder, is web design truly that important? Well, let's find out.
Why does web design matter?
It sets the first impression
When your audience visits your website, it gives them their first impression of your business. They will judge your business within seconds. In these first few seconds, you want to make a positive impact on your audience.
75% of people judge a company's legitimacy solely on the basis of its aesthetic appearance.
Existing web design templates are created as a "one size fits all". It's unlikely you'll find a pre-existing layout that closely matches your own unique business goals. A custom website design will carefully consider your main objectives and curate a layout optimized for you.
38% of people will stop engaging with your website if your content and layout is unattractive
Good web design will make it easy for a user to find the information they are searching for or to get in touch
Having started in E-commerce ourselves I know inside out what is involved in designing, building, and maintaining a WordPress website. Having built over 200 websites for my clients, ranging from e-commerce sites to blogs and forums, I will guide you through the entire process, advising on the best options and features to achieve your goals with the website.
Shajib not only delivered an exact copy of the website, he did 2 days ahead of schedule. He started delivering milestones mintes after I ordered.. The final result is pixel perfect, both on mobile and desktop. Not only that, the WP elements (pages, widgets) are well organised, so further changes on the website will be a breeze. I couldn't recommend Shajib enough, I truly don't understand how he's not a Fiver Pro yet, order soon before Fiverr realises! From now on, Shajib will be my WordPress guy! Thank you so so much!
I had a mixture of a cloned website template and custom website. Nishid was responsive, helpful, extremely polite and incredibly fast. He delivered the website in 3 days and it only took longer because I needed to provide him with documents and have minor things adjusted. I would absolutely recommend him for your website needs.
Absolutely fantastic! I will be working with him again in the future. He incredibly fast and had an absolutely great design eye. I highly recommend working with him. I wouldn't pick anyone else on fiverr.
This guy is awesome! Nothing caused him a problem, he did anything I asked in a matter of seconds. He is always friendly, and he has great communications and one of the best I have worked with! See you in the next time Nishid.
Creativity and knowledge! I love working with people who can take my vision to the next level. He always goes beyond the call of the gig. Very knowledgeable in WordPress. I love love love working with him. I always use him over and over!
Nishid delliver a very impressive work, he was very friendly and helped us build a very responsive website for our agencie, we realy love this seller communication and work, will work with him again and again. Thank you so much Nishid
Thank you it was great working with you the new website is very nice website because mine was terrible . Hehad a lot of patient he explain me everything and was working very quickly he is highly reccomend. He change every thing I ask
The team at Nishid is a great. Shajib is the perfect addition to the team with the ability to revitalize shaken and unproven concepts while delivering a much needed confident approach, ensuring my Website was created right. I'm beyond happy with Nishid.
He has really done an exceptional job, I am very satisfied with the patience and detail with which Nishid works. I have worked with many freelancers but Nishid always does a good job and is very responsible. I will definitely hire your services again and I fully recommend your services as a freelancer. ❤
I had a mixture of a cloned website template and custom website. Nishid was responsive, helpful, extremely polite and incredibly fast. He delivered the website in 3 days and it only took longer because I needed to provide him with documents and have minor things adjusted. I would absolutely recommend him for your website needs.
Frequently
Asked Questions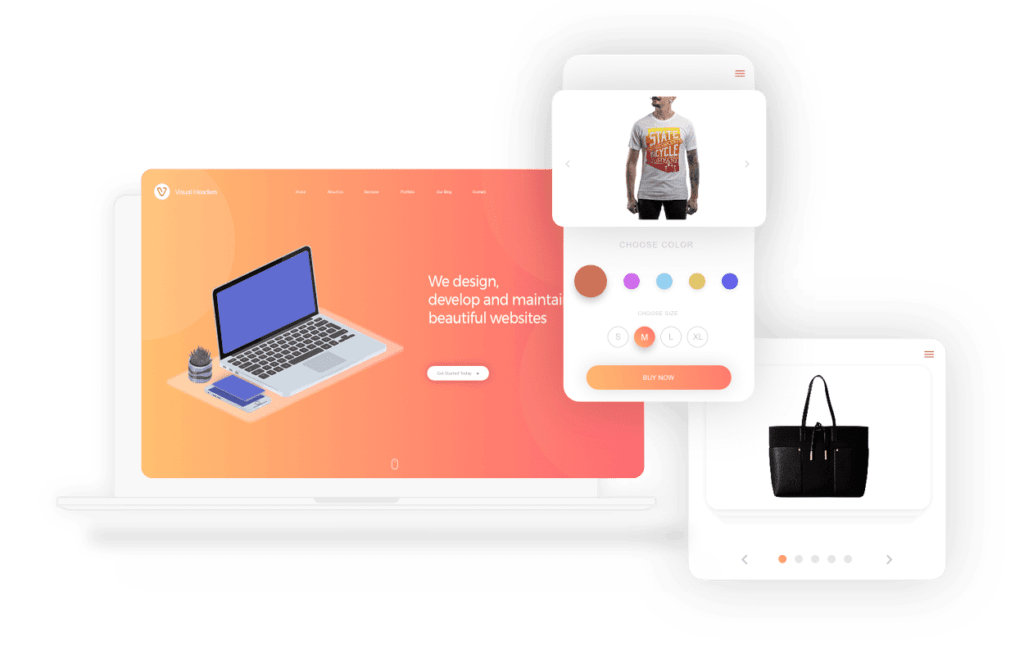 What is Web Design and What Does we will Do?
One of the questions that keeps coming up in the world of entrepreneurs is whether investing in web design is worthwhile.
When you already have strong marketing, sales, and branding team, you start doubting whether spending money and effort on web design will change anything.
But trust us. Although it might not look as significant as other aspects of your business, a quality web design is not only advisable but pretty much mandatory.
Wondering why? Well, the answer is simple. A good web design increases your customer trust and helps you build a better connection. And once that is done, you can expect more purchase rates, stronger customer loyalty, and overall improvement of your brand identity.
User Experience or UX refers to describing the user's overall experience of the website or application. A good UX is when the web page is pleasant, easy to use, and serves the website's end goal.
For instance, if it's eCommerce, the visitor's end goal is to buy a product. However, if the UX is poor, the visitor might have trouble figuring out how to add the product to the cart or purchase it, eventually harming the business.
So the web agency should make sure that your visitors can easily navigate your website without encountering any problems.
What is user interface design?
Along with the UX also comes the UI, which stands for User Interface. The UI is the graphical layout of the website or application, consisting of many different elements like text, images, entry fields, buttons, sliders, etc. In other words, everything that you see on the page, every micro-interaction you engage with, should be designed, and the UI developers are the ones doing it.
UI/UX is an essential part of web design, and a good web agency should be able to craft a website with a clean interface, pleasant experience and that achieves the main objectives.
What is responsive web design?
The term responsive web design refers to the approach of web design where the website adapts to different window sizes and screens. In the age where mobile traffic is growing day by day, this is a pretty important aspect. You don't want your entire website to collapse into awkwardly large pieces when someone accesses it from their smartphone or iPad.
Your website will automatically match your visitor's screen sizes with responsive web design and stay intuitive whether your user is accessing from the mobile device or desktop.
Most modern web agencies will use the responsive web design approach. Google will penalise non-responsive websites, and it has many advantages over the other models.
The easiest way to start a website? WordPress. And there's no doubt about it.
Let's take a look at the statistics. According to the
W3Tech statistics
, 65.1% of websites with a recognizable CMS (content management system) are powered by WordPress. In other words, 48.3% of all websites on the internet use WordPress.
And the truth is that WordPress deserved its status as the best CMS for a couple of reasons. It is:
Having started as simple blogging software, allowing to build pages and create blog posts quickly, WordPress has expanded rapidly since. Now, WordPress includes user account functionalities, a very user-friendly admin panel, and, best of all: access to thousands of plugins and themes!
Affordable for development
There are certain things you should pay for if you eventually want your website to go live. At least you'll need to secure your website's hosting and domain name, which will cost you some money, as WordPress does not offer it by default.
It will save you or your initial business investments for the development process, and you'll still have a professional website that meets all the requirements of the modern digital world.
As we've mentioned, WordPress itself is free of charge. However, the additional aspects, such as hosting or domain name, without which you can't run your website, have their costs. It's up to you whether you decide to go with a dedicated server hosting that costs hundreds of dollars or a shared one. And it's also up to you to choose which themes and plugins you will use to ensure your website's security, SEO optimisation, and overall state.
Easily expanded with new features
With WordPress, it's also pretty easy to scale up your website. All you need to do is look for the plugins and the themes. And the good news is that WordPress is full of them.
You can find anything you need in the 
WordPress Plugin Directory.
 For instance, maybe after some time, you realise that your website traffic is growing, and you suddenly have hundreds of customers interested in a membership for your service.
Easily marketed and promoted
Finally, WordPress websites are easy to market and promote. And that's what makes them such a popular choice among business owners. One thing is for sure, WordPress is excellent for SEO, and it has been proven time and time again. This means your websites have a high chance of ranking on the top of the SERP-s if you do your job well.
This said, of course, WordPress is not the only option. If you find out that WordPress does not work well for your business, you can try a bunch of alternatives. We have picked the two of the most popular ones here:
Another popular CMS that web designers love is Webflow. Using cloud technology, Webflow, just like WordPress, allows building websites without writing lines of code.
The reason why some prefer Webflow over WordPress is that it offers designers slightly more advanced options. Page builder plugins like Elementer offer almost the same design flexibility, whereas in Webflow, more advanced animation effects are possible. Additionally, in Webflow, the design is clean coded in HTML, CSS and JS. So if you change your mind about the CMS later, you can export the code and use it elsewhere. Platforms like Webflow and Shopify are also zero maintenance – they take care of updates themselves. In WordPress, you are responsible for keeping your website's themes and plugins up to date.
Easy drag and drop page builder
A very intuitive editor
Good for eCommerce sites
Reusable CSS classes
Ability to publish directly to the web
Zapier integration
Ability to create scroll-based animations
Easier workflow with Flexbox
Unlimited customization options
Not that easy to learn: Webflow is not really for absolute beginners. If you have never engaged in web design or web development before, it might be hard for you to figure out how to use the platform. However, it's not impossible. If you put your mind to it, you can learn how to use Webflow with the help of their video tutorials and how-to articles.
Price: Webflow is not open-source like WordPress or Woocommerce, so if you're tight on budget, it might be a little too expensive for you.
Now, let's move on to the next option, which is:
For those who want to create an online store, Shopify is one of the most convenient solutions. It's an ecommerce platform that allows you to create a professional online shop quickly and easily. Just like bloggers opt for WordPress, the online store creators go for Shopify. It is both a good choice for beginners and ecommerce experts.
So if you want to take your business to the next level by opening a digital store, Shopify has a lot to offer. But of course, like any other platform, it has its advantages and drawbacks.
Let's skim through the main ones:
Elegant Themes: Shopify offers many professionally designed themes to help you create the exact website appearance you wish. These responsive themes are available in the Theme Store and will be a good match for any industry, be that clothing, sportswear, jewelry, art, etc.
High speed and security: Security and speed are the most critical aspects of any online store. You don't want to lose conversions because your page took too long to load. You also don't want to endanger your customers' security by making it easy for hackers to access their credit card credentials. The best part with Shopify is that it ensures that none of these happens with its high level of speed and security.
24/7 Support: Finally, if any questions arise regarding the platform, Shopify's customer care team is always there to help you out. You can also browse their extensive database of FAQs that help a lot during the troubleshooting.
The AMP feature and most of the extended SEO features are available only with the paid additional plugins.
It's not easy to export your blog posts.
Shopify does not allow your customers to use more than one discount.
The pricing structure is not the best one. Apart from the monthly charges, it also requires a transaction fee.
In case you want to customize your website, Shopify will demand knowledge of code, which might be a little too complicated for beginners.
4 simple steps and 5 minutes of your time.
Start your project, Choosing the most suitable web development platform.
Initial consultation to understand the needs of the client and put together the brief. We generally need to discuss.
Receive your order summary and project confirmation (processed within 5min)
If the final draft is accepted, we will start developing the website with the chosen platform